Criss-Cross Distressed Ponytail Cap
Criss-Cross Distressed Ponytail Cap
Overview
Rugged Criss-Cross Distressed Ponytail Cap for women with a unique design hat lets them wear ponytails with the hat!
A unique take on the classic baseball cap, this hat has an elastic band so that you can wear your ponytail or messy bun up high OR low, rather than just a low ponytail like a normal cap. It is also different than the classic pony cap in that it still looks adorable even with your hair down! Its unique design, functionality, and comfortable fit make this cap the perfect spring/summer accessory.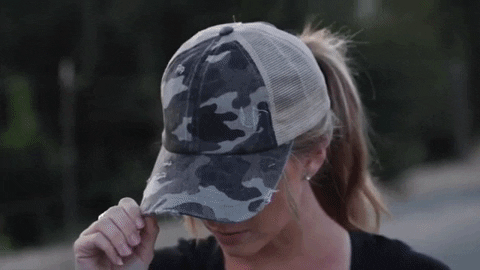 Features:
When you touch this baseball cap, what you could get is the comfortable feeling from the cotton, along with the lightweight and durable feature
The angled brim will not shield your view and can keep your eyes from the dazzling sunshine. Protect your eyes and freely watch what is in front of you
The pattern spreads on the brim and the front side of the top, while the mesh takes up its back, reflecting a feeling of individuality as well as providing breathability
When you just need to go outside, you can add this sports cap to bring casual style. Draw the attention of others when you are walking in the street
Anytime you want to go out, you could put on this sports hat to match your apparel
The adjustable nylon clasp strap on the back can help you adjust the hat to get a more comfortable feeling
Once your hair is swept back in a ponytail or messy high buns or other lovely hairstyles, you could still wear this baseball cap, as it comes with a hole which is wide enough to pass through your hair
A wonderful headwear for walking, cycling, golf, sports events, sunbathing on a beach or lake, boating, camping, marathon, daily wear and so on in any seasons
Package Included:
1 x Criss-Cross Distressed Ponytail Cap
This is a LIMITED PRODUCT. Consider getting two or more.
Click ADD TO CART and buy it now! Get yours today while stocks last.
Fast Worldwide Shipping and 100% Money Back Guaranteed!
50% OFF Today Only - Order Yours Today
30 Day Returns & Refunds
Discounts for larger quantity orders